Australian Car Covers,Tonneaux & Soft Top Upholstery, Vehicle Trimming
 Australian car covers made in Phillip Island an award winning vehicle trimming service by Dave Hosking.
WELCOME TO AUSTRALIAN CAR COVERS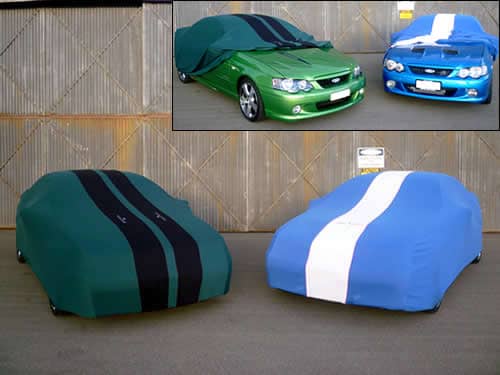 Australian Car Covers is Located on Phillip Island.
I proudly manufacture custom car covers in Australia & offer an extensive range of automobile trimming services. 
My upholstery services include seat repairs, carpets, headliners, door & floor trimming, convertible hoods, vinyl, interior velour upholstery and leather seating, tonneau covers, custom car covers and embroidery.
Offering more than 40 years motor vehicle trimming experience, today I still enjoy the challenges of creating your custom upholstered vehicle to perfection.
Owners present me many varied makes of vehicles to auto trim. For instance from Alfa Romeo's through to Zephyr's. I provide auto trimming services for Vintage and Veteran vehicles and in the mid 90's I started doing prototype work for different car companies.
Key custom car cover features are:
Easily Removed and Installed in Minutes
Sewn-in Elastic Tensioners for a Snug Fit
Choice of 7 Colour Combinations
Badge / Moniker  Embroidered
Stripes &/or Piping – P.O.A.
100% Machine Washable
Vinyl Carry Bag
Use of 60 Inch material (less seams)
Hand-made for Custom fit
NON water-proof – suitable for indoors only
Custom Car Covers:
Of particular interest to owners of pristine vehicles is the fleecy lined custom car covers which I tailor to your requirements and finish off with quality embroidery if required.
At Australian Car Covers I also offer trimming and covers for Boats, Jet Skis, Sail and Surf Boards and Motor Cycles.
If you have a need for such expertise, Contact: Dave Hosking
See  my Portfolio for designs & options.
Although classic and sports cars of all makes find their way into my shed. Porsche's in particular keep appearing on a regular basis to undergo upholstery and trimming services.
Prior to starting my Car Cover business in a small factory in 1989 at Bayswater Vic, I started working on 356 Porsche vehicles with Andrew Keiller (@ LMK917). Andrew has gone on to build the most beautiful Porsche 917's you will find. I still do the custom Porsche trimming for Andrew and two of his son's. The younger son Tim, now creates Porsche 906's to perfection.
Soon after completing a number of 356's we started upholstery trimming on Porsche 911's and other Porsche models for people like John Gregory from Spyder Automobiles which is now run by Mike Jacobson with whom we still collaborate.
Today,  I still love the challenge of custom manufacture. Nothing like the satisfaction of seeing clients eyes gleam as they take possession of their treasured restored vehicle.
DOES YOUR INVESTMENT NEED SOME TLC?
Car cover, seat repair, damaged trim, need a new tonneaux, boat cover, your Porsche need help?
Dave is available to provide you  advice & a no obligation free quote.